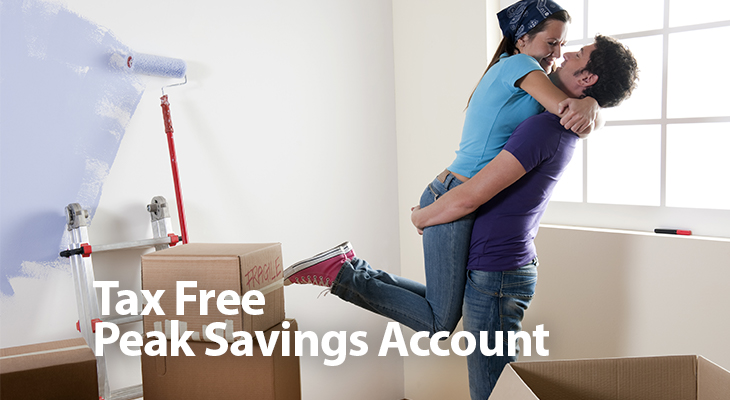 The Tax Free Peak Savings Account, with a high interest rate on every dollar you deposit, allows you to build your savings and achieve your financial goals faster free of taxes. With 2 free included transaction per month, you have access to your funds once you've reached your goal without eating into your earnings. The Tax Free Peak Savings Account is the best way for you to save for your short to medium term financial goals and put your hard-earned money to work for you, without ever locking it in.
Key Features
Save on monthly fees.
The Tax Free Peak Savings Account, just like all our other Savings Accounts, includes two free Standard Transactions so you can access your money when you need it without paying extra.
Unlimited Deposit Anywhere™ .
Deposit your cheques instantly with our Mobile Banking app.
Interest is free from income taxes.
Let your money grow fast and free from taxes each year.
Unlimited Me-to-Me online transfers with every Tax Free Peak Savings Account.
Transfer funds between your Savings and Spending Accounts as much as you like without using your two free included Standard Transactions.
Account Details
TAX FREE PEAK SAVINGS ACCOUNT

Growth

Rate

High Interest

Paid

Monthly

Tiers

None

Transactions

Standard Transactions:

ATM Withdrawal
ATM Transfer
In Branch Transfer
In Branch Cash Withdrawal
Bill Payment
Online Bill Payment
Online Transfers
Telepay™ Transfer
Telepay™ Bill Payment

2 Free
$5.00 /Additional

Online Me-to-Me transfers

Unlimited

Deposit Anywhere™

Unlimited

Interac® e-Transfers

Included in your Standard Transactions Limit (2)

Record Keeping

Online Statements

Free
Ready to open a Tax Free Peak Savings Account?
Find your nearest branch to get started today.
® Trade-mark of Interac Inc. Used under license.